Must Have Picture Books Linky Party

I love picture books!!  So, I am linking up with The Teacher Wife, to share some of my favorites. Click her button below to read other bloggers' top five or to join the party!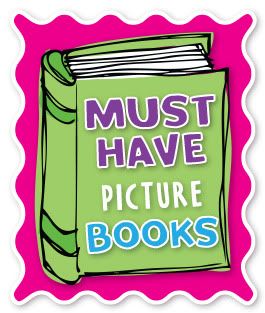 1.  Big Al
Big Al is a big scary fish that wants to make friends.  He tries many things to make friends, but he is unsuccessful.  The other fish are afraid of him because he is big and scary-looking.  At the end of the story, Big Al makes friends by rescuing the fish. They realize what a nice fish he really is.
School is starting  but Chester Raccoon does not want to go. His mother shares a family secret called the Kissing Hand to give him the reassurance of her love any time he feels scared.
3.  Santa's Book of Names
Edwards has difficulty reading.  On Christmas Eve, Santa accidentally drops the all- important book listing the gifts children will receive.  Edward returns it to Santa and gets invited to join Santa.    Since Edward can't read, he just holds the book and turns pages.   Santa loses his glasses, so Edward has to help Santa by reading the list.  At the end, Edward can read!
This a great story for children of divorced parents.  Charlie is a cat with two homes. He lives in one home during the day and a different home at night.  The two sisters discover his other home one day when Charlie doesn't make it home.

5. The Real Tooth Fairy
Elise loses her first tooth and is determined to meet the tooth fairy.  She discovers her mother is the tooth fairy!  Later, her mother tells  her that the tooth fairy is someone you trust and know like your teacher, neighbor, or friend.