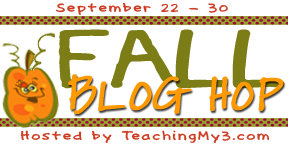 Fall is in the air. I love the cooler evenings! Let's welcome in the new season with a fun hop around the blogs hosted by Heather over at Teaching My 3. You are sure to grab tons of creative ideas for the fall!
Lots of wonderful teaching friends are joining in the Blog Hop too, so be sure to pop along and find out what's in store.

Why not join in yourself and join up to this Fall-tastic linky party..? Here's how to do it…
Participation Guidelines:
1. Your post must be linked to a blog, not a store.
2. Your post must be something useful to a teacher and/or homeschooler.
3. Add the FALL BLOG HOP button to your post.
4.. YOU MUST post this code to the HTML for your post.
This keeps the BLOG HOP going.
<!– start InLinkz script –>
<script type="text/javascript">
<!– end InLinkz script –>